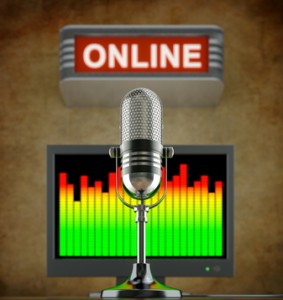 Perhaps you've never fancied yourself as a radio show host. Maybe you think being a broadcast personality simply isn't your calling. But have you ever considered just how much you would be able to expose your business to a much larger fan base if you got in front of microphone every now and again? It may sound like a strange concept to you. Maybe that's the very reason you need to give it a try!
Thinking outside of the box is an angle that many business owners are employing in 2014. Especially considering how powerful the internet has become in connecting people from all over the world, online radio is more than a viable advertising option for your brand. People are online all the time. The internet has become a chief source for news, music and information.
With your own internet radio show, you'll be accessible to people who enjoy downloading podcasts to their MP3 players or smartphones. Unlike regular radio shows, your broadcasts can be listened to at the leisure of whoever decides to check it out. And what you say can have a major impact on their buying decisions! Here are some more reasons to get behind the mic.
You can generate more income from advertisers. With your own radio show, you'll have the opportunity to not only promote your brand, but you'll have the platform to help other businesses promote theirs through commercials. This becomes an added revenue source for you, and you won't even have to put in any extra work to create the ads. Consider the new business relationships you'll be able to establish by hosting your own show.
You will be able to interact directly with your customers. Perhaps your show can have a question and answer period. Maybe you can incorporate callers who come on the air to make comments or ask questions that you can answer on the spot. Either way, your show will be your company's voice – one that is heard by people who will get to know you better so that your brand becomes more highly regarded.
You will gain a higher status in the business world. As much as people enjoy internet radio, it's still a unique concept that your competitors have likely not yet employed. Talk about getting a leg up on the competition! Take charge, showcase your expertise and give people reasons to leave other brands in favour of yours. Inevitably, your show will allow you to become a celebrity among those in your target market.
You will be able to grow your audience. Let's face it. With some experience putting together your online show, you are bound to gain more listeners with each and every episode. The benefit to you is that you won't be bound by any station rules, including the length of time for your show. If you want it to be ten minutes long, that's your choice. Want to go on for an hour? That's up to you. You'll soon learn what your fans want.
MeloTel can assist you with getting your own online radio show going through our fantastic SHOUTcast Hosting feature. It's an incredible streaming service that allows you to broadcast yourself online. Powerful, stable and a great way to generate more traffic to your website, this feature requires no commitment, allowing you to cancel at any time. Contact MeloTel at 1-888-MELOTEL for more information today!