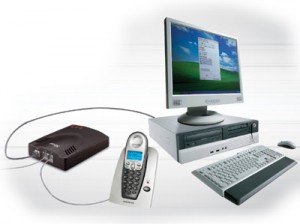 It's always good to have options, right? Even if your favourite ice cream flavour is chocolate, you might want to try strawberry every now and then. And if you doubt it, imagine your local ice cream parlour sold chocolate and no other flavours. You might find yourself missing the fact that you once had options, even if you thought you never wanted them.
VoIP telephone services give you the flexibility to manage calls in a variety of ways. Without the options that VoIP provides you, your business may miss out on important phone calls, messages and other ways to maintain contact with your clients. The standard telephone is simply not enough to run a business in this day and age.
VoIP or "Voice over Internet Protocol" allows you to have conversations with people world wide using the internet. According Elsa Wenzel on itbusiness.ca, by the year 2013, over 80 percent of businesses will be using VoIP. This is a number estimated by In-Stat after doing research on the growth of this service.
At MeloTel, we have developed a vast knowledge of VoIP and, as a result, have become leaders in the industry when it comes to connecting businesses through this great system. Especially for companies who hire staff to handle numerous calls each and every day, VoIP is quickly becoming a staple.
One of the best advantages to VoIP, as Wenzel points out, is the fact that it helps companies significantly reduce their long distance costs. By using the internet to connect to people all over the world, a business owner no longer experiences the same type of phone bills they once did.
This web-based phone service also allows you to manage data much like you would other information stored online. So, for example, some VoIP services can help you to translate a voice message into a text or email that you may read on your desktop computer or smartphone.
Essentially, VoIP can help you conduct "virtual meetings" allowing you to extend yourself way past the limitations of a standard landline telephone. As we have mentioned in previous blogs, you don't even have to be in your office to keep your office running. No matter where you are in the world, your VoIP telephone service will keep you connected.
As always, we encourage you to give us a call, here at MeloTel, to learn more about the wonders of VoIP. We'll happily get your company connected ensuring that you get the perfect combination of excellent customer service, a speedy set-up and the VoIP telephone connection that is best for your business.