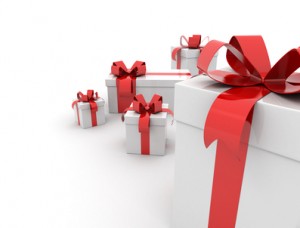 Today's blog represents our very last entry for 2013. We're so excited about the beginning of a brand new year, especially because the one that is about to end was such a great one. You may think that that would be cause for us to wish for 2013 to never end. But, at MeloTel, we believe that all of the great things that have transpired over the past 12 months are just great signs of things to come.
In 2014, we will be more committed than ever to providing our customers with top-of-the-line products and services. It is our sincere hope that we can help all of our clients to far exceed the successes that they've experienced over the past year. In the past couple of blogs, we outlined how our VoIP telephone services and Web Design Services can help to pull that off.
But, at MeloTel, we see ourselves as a company that provides so much more. With Christmas coming up in a few days, we're reminded that we are smack-dab in the middle of the season of giving. And this is something that we strive to do all year round. So, with that, we'd like to remind you of a few of the freebies that MeloTel would like to give to you this holiday season – and well into the new year!
MeloSIP Click2Talk for FireFox. This is an application that allows you to turn any phone number listed on any website into a direct link to that number. In other words, this feature will allow you to click on that number so that it will automatically begins dialing it for you! It is a free software that we provide that can be used with such "soft-phone" software as Bria, X-Lite or Zoiper.
Tweets. At one time, McDonald's claimed that they provided "smiles" for free. Well, at MeloTel, we do the same for tweets. It's as easy as tweeting us using our handle @melotel. Doing so will prompt us to do the same for you. That's how Twitter works, doesn't it? The more people you mention, follow and reply to, the more that others will get to know you!
Voice Talent Production. As you know, this is a paid service at MeloTel. But some projects are just so much fun that we can't turn them down! If you have an idea that you think will benefit our portfolio, we'd love to hear about it. You never know, you just may end up getting yourself an awesome voice ad for free. And the music that members of the MeloTel team have put out in 2013 should convince you to give it a try.
Immortal. MeloTel's Editor-in-Chief, Daniel Faraldo just so happens to be an accomplished vocalist and songwriter. Regarded as a veteran within Canada's hip-hop scene, the artist professionally known as Dan-e-o recently released this third album, Inevitable. Just prior to its release in November, he dropped an EP entitled Immortal which you can download for free HERE!
Uncle John's Holiday Hits 2013. Chances are, you know all about this awesome collection of Christmas songs already. MeloTel's President, John Meloche has so much fun in a recording studio that he has put together his third collection of holiday tunes entitled, Uncle John's Holiday Hits 2013. If you're not one of the lucky ones who got a CD copy, you can download the project for free HERE!
On behalf of the entire MeloTel family, have a very Merry Christmas and a Happy New Year!