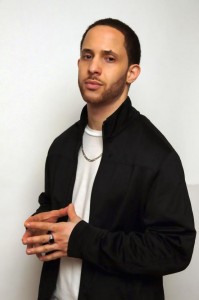 "Dear hip-hop, I'll love you 'til I die." These are the infamous words that comprise the beginning of each chorus in the classic single, "Dear Hip Hop" by Toronto rap veteran, Dan-e-o. Released in 1996, Dan-e-o's groundbreaking debut is heralded as a "Canadian hip-hop classic", according to Wikipedia.
Dan-e-o, by the way, is also known as Daniel Faraldo – songwriter, actor, teacher…and MeloTel's Editor in Chief! So how, exactly, did one of Canada's most celebrated hip-hop artists become part of The MeloTel Team? The York University graduate is a writing machine! Double majoring in English and Mass Communications, Daniel's strong suit has always been the written word.
"I think people love 'Dear Hip Hop' so much because it was a love letter," explains Daniel, "I write from the heart, so it always seems to resonate with my listeners and readers. My mom claims that I should have been a lawyer because I talk too much! 'You have the gift of gab' she always says. But I'm more of a creative person, so writing and performing just feel like things that I was born to do."
Teaming up with MeloTel President, John Meloche, last year, Daniel wrote and produced "888 MELOTEL". Also known as John's official hip-hop debut, the unofficial company anthem proved that Daniel can teach just about anyone to have the "gift of gab"! More importantly, the song began a partnership that would help launch MeloTel into the stratosphere as a true "people's company". Listen to it here:
"MeloTel is not your average company," explains Daniel, "So naturally, we're not going to employ your average staff. Collaborating with John was fun. He enjoys music as much as he does making his business a top-tier brand. So the combination of the two just seemed natural. I write all the time and have an honours degree thanks to my prowess with a pen, so becoming the company's Editor in Chief made perfect sense."
Claiming that he works a "24/7", not a "9 to 5", Daniel has been known to write feverishly well into the wee hours of the morning. Heading up MeloTel's Bloggers For Hire department, his responsibilities include designating assignments to his team of bloggers, comprising and proofreading blogs, maintaining social media upkeep and composing newsletters and other forms of written advertising.
Says Daniel, "I communicate the MeloTel voice in written form. I enjoy writing in a personable and easy-to-read way so that I can engage my readers as much as possible. This is also one of the most intriguing services offered by the company. Our team writes for a variety of businesses all across Canada. I take great pride in helping others generate more revenue through becoming their 'written voice'."
Currently, Daniel and John are cooking up a new advertising campaign complete with a viral video piece. However, the upcoming project will not mark the first time that the two have collaborated on screen. John made his music video debut in "Ghetto" last year. The first single from Daniel's duo, Perfeck Strangers and their #1 charting album Series Premiere, the song's video provided John with yet another way to express his artistic side.
"It's no wonder MeloTel is a company that is so good at being about people. Look at its President. Sometimes, I think John was made for show business," Daniel insists. The forthcoming "Work To Do" video by Perfeck Strangers will be further proof of that. Co-starring John as the office boss (quite a stretch, right?), the new video is sure to garner a lot of attention. But if it's attention you want for your company, the blogs written by MeloTel's Editor in Chief and his team of bloggers are your solution!