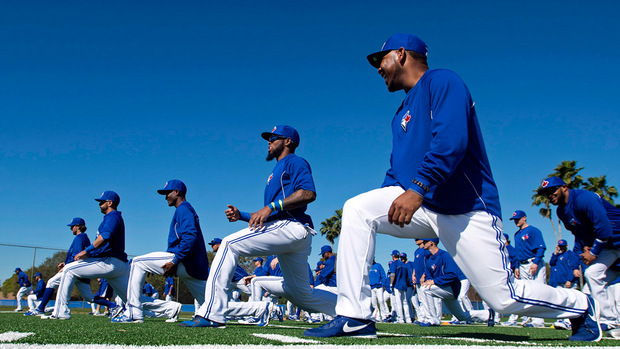 With the Major League Baseball season having gotten off to a flying start this week, there has been quite the buzz in the city of Toronto – home to MeloTel headquarters. Our hometown Toronto Blue Jays are poised to be one of the top contenders in the American League. Despite their slow start to the season by losing the opening series to the Cleveland Indians, hopes are still high for the Jays' chances this year.
During the off season, as you may know, the Blue Jays made a number of trades and signings to bolster both their offence and their pitching staff. As a result, they are a much better team this year than last. You can't help but think about the importance of teamwork when thinking about the new look Jays. At MeloTel, we're convinced that a lack of teamwork between members of a strong team will never produce a winner.
"You've got to work together," insisted one of the members of our staff, "If everyone isn't on the same page, it can make things tough. Sometimes that means getting to know the members of your team personally so that you know their characteristics. You don't want misunderstandings to be the reason a project fell through. The better you're able to work together, the more successful your company will be."
We take great pride in knowing that many members of The MeloTel Team get along as personal friends. Not only does it help to foster a positive working environment, but it allows for open communication. Good communication, as you have likely often heard, is the key to making any relationship work. It's important that you know the members of your team so that they each may play their positions correctly.
Perhaps, a lack of knowing each other is what cost the Blue Jays the game on Opening Night this past Tuesday. New Blue Jay, R.A. Dickey was the game's starting pitcher. Much has been made of Dickey's famous knuckleball – a pitch that is notoriously hard to catch. J.P. Arencibia found that out the hard way as the Jays catcher was victimized by several passed balls and wild pitches that lead to some Cleveland Indians runs.
"They're not on the same page yet," commented our Editor-in-Chief, Daniel Faraldo – a life long Blue Jays fan, "J.P. has got to make sure he figures out how to handle Dickey's knuckler or it's going to be a tough season. Mistakes can cost you games. And that can cost you business. People support winners. That's why there's so much extra hype over the Jays this year. It's all about winning."
Naturally, we feel the same way, here at MeloTel. Our staff is dedicated to winning the support of our customers. We know that before we can make our customers happy, our staff needs to be made up of happy individuals. Teamwork is key. And unifying the members of our team within a friendly, family atmosphere is one way that we have been able to pull that off.
Of course, we'd love for you to join the MeloTel team. We'd appreciate the opportunity to show you what it's like to work with a team of individuals who openly communicate and genuinely like each other. Let our team join yours in making your company that much more of a winner. Give us a call at 1-888-MELOTEL and let's get the ball rolling on getting you the products and services you need. No knuckleballs, we promise!