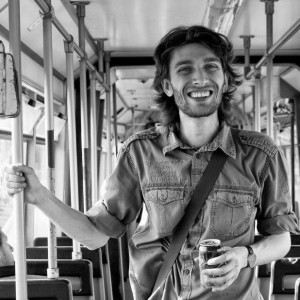 Most companies refer to the members of their staff as their "employees". Some call them "associates" or "colleagues". For others, "co-workers" or "representatives" work just fine. But we consider the amazingly talented group of individuals who make up The MeloTel Team as "family". And today, we have the pleasure of introducing you to one of the most creative members of our family.
Meet Robert Doroftei, also known as "The Programmer". As far as MeloTel President, John Meloche is concerned, Robert "has been one of the most integral parts of the growth of MeloTel since even before it existed. (He is) such a fantastic person who puts his heart in everything he does for our customers and our company."
But how would Robert describe himself? "I'm a very powerful, active thinker," said the 26 year-old Romanian, "I have lots of ideas that can change the world – and that's my goal in life." Change the world? Seems like a pretty lofty goal for a young man who admits that one of his favourite past times is driving around in his car "with no purpose at all".
Robert, you see, is a fan of life – and an even bigger fan of making life easier for everyone. "Great music makes a great life," insists Robert, who places Pink Floyd atop the list of his favourite all-time bands. Enjoying the mountainous terrain of his native Romania, taking in the opera and experimenting with different flavours to satisfy his unique palate are also among his most sought-after to-dos.
"I like the combinations of stuff that I wouldn't normally think would work," he explains, "Like meat and strawberry jam. If it's served correctly, it can be amazing." It's no wonder that Robert considers himself an active thinker. It's his unique outside-of-the-box thought process that has helped him develop the types of portals that have made the MeloTel name so popular among businesses that have become clients.
"I'm not (saying that I'm) a fan of Apple," says Robert, "but I really like how they are making things lovable. You are being drawn to get addicted to their things…I want to build things that are very lovable and (that) make your life easier, so you can be addicted, so your life will be better."
It is the concept of making lives easier that Robert believes is the true life blood of the MeloTel brand. Often referred to as a "people company", MeloTel prides itself on providing customers with what other telecom companies do not. "We are people trying to help people," says Robert, "That's our ace in our hands."
Staying true to his ambition of making a difference in the world, Robert works tirelessly to enhance technologies that will change the way people live each and every day. It's all about people, he insists, noting that other telecom companies don't "suit the needs of a person". Interestingly, this is what we often hear from new clients who make the switch to MeloTel.
"That company (is not) looking at me as a human being and saying 'Are you okay? Can we do stuff for you that (will) help your life?'", illustrates Robert. Well, MeloTel would like to take this opportunity to thank Robert for making our lives easier! Without him, it would be so much more difficult being the "people company" that we have become.
Follow Robert on Twitter!