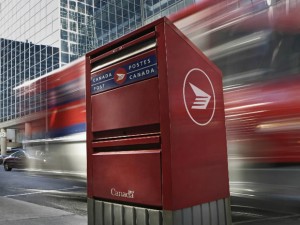 Earlier today, The Toronto Star's business reporter, Vanessa Lu wrote that the Canadian Union of Postal Workers may begin striking if a deal has not been reached by midnight tonight. The strike, says Lu, will begin with 24 hour "rotating walkouts" beginning in Winnipeg. It seems that the premise of this type of striking is to begin with a work stoppage in this city, and then move on to others across Canada.
At present, Canada Post is reporting that negotiations are ongoing, and that they are trying to get a deal done as soon as possible. These talks, apparently, have been going on for seven months. Among the concerns of the union are health and safety problems due to new work methods and equipment at the new Winnipeg facility.
Among the main concerns of management is labour costs. Lu writes that while mail volume has decreased in recent years – another victim of the internet, no doubt – wages and benefits still make up about 64 per cent of costs. In the event of a strike, which is still pending, MeloTel would like to communicate our take on the impact this may have on our business.
Now, as we have mentioned in past blogs, we do our best to run a paperless business, but we do understand the needs of clients who wish to receive traditional paper bills in the mail. Of course, the receipt of your bill may be delayed if Canada Post does, indeed go on strike. In that event, we would like to remind our clients that they are still required to pay their MeloTel bills by the invoice due date.
Therefore, we'd like to offer ways to make this process a quick and easy one for you, considering that your mail may not be delivered to us by the time that it normally would. Firstly, we would like to offer you the option of receiving an electronic invoice. Quite honestly, this is a practice that most people employ nowadays anyways. No time like the present to get on board!
Simply send an email to billing@melotel.com to request your invoice. You may also give us a call toll free at 1-888-MELOTEL and we will happily send you your invoice online. You can just as easily make your payments online as well!
One way of doing so is through your bank's website. Processing an Email Money Transfer is also a quick and easy way to pay your bills. Banks, of course, also accept bill payments in person, so feel free to discuss this option with a teller at your local branch. In addition, you can give us a quick call to make a credit card payment over the phone!
Any of the above options, at this point, would serve as a better alternative to sending a payment in the mail. Right now, there is no word on how long the strike may last or just how much it may impact the mail you send. Obviously, you don't want to have your payment arrive late. Feel free to call us for more info on how we can help you avoid any late payments. Talk to you soon!