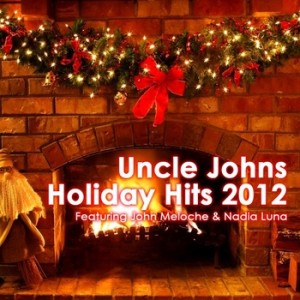 It's that time of year again! And naturally, we've been blogging about it quite a bit. You mean you haven't noticed the extreme holiday spirit being shared, here at MeloTel? Well, even if you have – as the saying goes – "you ain't seen nothing yet!" Arguably, the most holly, jolly business owner in all of Canada, John Meloche is so into the Christmas spirit, he's offering you ALL a free gift!
As he does every year, MeloTel's President will be recording new Christmas songs strictly for the purpose of spreading holiday cheer. This isn't a specific promotion tied to the MeloTel brand. There is no requirement to sign up for any service. In fact, getting your hands on a copy of John's new Christmas CD is as simple as emailing John directly at jmeloche@melotel.com.
Simply email your home address and you will receive your exclusive Christmas CD, as recorded by John himself, before Christmas. But what exactly can you expect from John's new album? Well, for those who don't know, this year's edition will not represent John's first go-round in a recording studio. In fact, this year's installment of Uncle John's Holiday Hits will represent his third rendition!
Now a holiday tradition, the President of MeloTel will be revamping his holiday hit series by adding eight brand new tracks to the classic tunes that he released on the 2011 and 2012 editions of Uncle John's Holiday Hits. The 2013 "deluxe edition", if you will, is bound to be his best project yet. Last year, John got some assistance from MeloTel's Voice Talent Production Manager, Nadia Luna.
Together with her sultry vocals, John produced his best musical project to date. We would argue, here at MeloTel, that your Christmas season isn't complete without a healthy installment of Uncle John's Holiday Hits 2012 in your musical rotation. Simply click the link to download last year's project in its entirety for free from the exclusive Bandcamp page.
"John never ceases to amaze me," admitted MeloTel Editor-In-Chief, Daniel Faraldo – a professional musician in his own right, "If he wasn't such a brainiac and expert in the communications field, he could easily find himself full-time work in the entertainment industry. His Christmas projects aren't made just for laughs. He's got a voice. There's some sincere soul in these holiday hits."
To record his holiday albums, John has enlisted the help of T.J. Habibi of the alternative rock-meets-electronica band, Secret Suburbia. A musician, vocalist and recording engineer all-in-one, T.J. has recorded numerous projects over the years including Daniel's latest solo release under the stage name Dan-e-o, entitled Inevitable. Clearly, John's project will be one of superior quality.
"John strives to only put out top-notch material," revealed Daniel, "Whether it's the products and services offered by MeloTel or a Christmas album he does for fun, John settles for nothing less than the best." With the intent of boosting the holiday spirit of everyone who hears it, the latest installment of Uncle John's Holiday Hits will be available soon. Be sure to email John your address for your free CD copy!