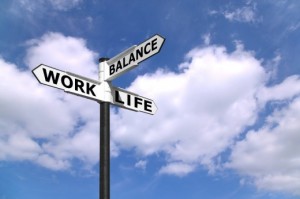 It's Friday! With the weekend about to get underway, a lot of people are mulling over the fun and relaxing things that they plan on doing over the next couple of days. That's pretty much the routine, isn't it? Friday comes and it's time to figure out how NOT to work all weekend long! That is, of course, unless you're in business for yourselves.
For many of us entrepreneurs, the work never seems to stop. Sure, it's great being your own boss. But that pretty much means that you've got to be harder on yourself to ensure that the necessary work gets done. After all, if you don't complete your tasks, who will? Earlier this week, we mentioned that setting limits for your work hours is important. So, by no means, should you be working ALL the time.
So how does one create a proper balance between work and living life? On FreelanceSwitch.com, Thursday Bram (cool name, right?), writes about what it's like to work as a freelance writer. Weekends, she admits, don't mean time off from work in her world. They also don't have to be filled with work responsibilities either.
Bram has come up with some guidelines for other self-employed individuals to follow if they wish to figure out how to make the best use of their weekends. A weekend can be both productive and fun as having a healthy work-life balance is the key. She notes that there are some things that make it okay to work on the weekend.
That includes considering how you spend the rest of your week. Many self-employed people don't adhere to a strict 9-5 Monday to Friday schedule. Therefore, some things may not get completed during the standard work week that may require time on Saturday and Sunday to wrap up.
This doesn't mean you need to work full days on the weekend, but if stealing some hours for work allows you to balance out your week, then so be it. Sometimes, this can help for each day of work to not be overwhelming and tiring. Spreading out your tasks may assist in making your work even stronger. There are, of course, some things you shouldn't do with respect to work on the weekend though.
Give your clients standard business hours during the week as appropriate times to call you, suggests Bram. That way, your weekend will provide for more uninterrupted relax time to complete your tasks. Try to refrain from sending out work-related emails and other forms of communication on the weekend too. You can work – but it doesn't have to appear that way.
You don't want to end up getting bogged down with even more work than you expected on a Saturday afternoon. Especially during the summer months, you'll want to give yourself some free time to enjoy the outdoors and other goings-on around your city. A rested mind is usually one that works the best!