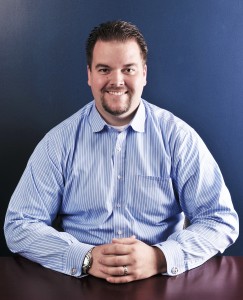 Today, we'd like to take the opportunity to invite all of the beloved readers of the MeloTel Blog to wish our company's president a very happy birthday. Ready? In 3, 2 ,1…Happy Birthday John! Yes, today is the big day for the big man (literally, the guy stands about 6'7") and we hope it's his best birthday yet.
At the ripe old age of 32, John is still one of the country's youngest entrepreneurs and easily one of the busiest. With the amount that John puts on his plate on a daily basis (don't bother to pardon the pun), he still remains hungry for even greater success. So what in the world will John come up with to do in his next year of life?
His past year might be a bit tough to top. Back in June, John unveiled his hidden identity as a hip-hop artist by recording and releasing his first-ever rap single. Entitled "888-MELOTEL", the track served as a jovial commercial for MeloTel, highlighting the many unique services offered by the company. Take a listen by clicking the play button below!
Of course, John wasn't done being innovative. In fact, he was only just getting started. By the time November rolled around, John was making his debut as an actor in a music video. Not straying too far away from the hip-hop scene, John played an overzealous car owner who was too "ghetto" to afford the gas needed to drive it. The song, of course, was "Ghetto" by the hip-hop duo, Perfeck Strangers. Here's the video (look for John around the 2:50 mark):
That same month, John participated in his first-ever Movember campaign, growing a usually-absent moustache. His efforts help to raise money to both aid in the awareness of men's health and battle prostate cancer. You would think that adding hip-hop artist, actor and philanthropist to VoIP telephone company owner would be enough, right?
Nope. Not for John. Published author was added to that list of accolades in December. That's when he got his online shopping-based article entitled "Avoid The Mall Crawl With Online Shopping Solutions" printed in an edition of The National Post. That's right, an article in the national newspaper detailing the benefits of shopping from the comfort of your own homes!
You see, trudging through a busy shopping mall is not one of John's ways to enjoy the holidays. But singing sure is! Rounding out his list of accomplishments over the past year is John's Christmas album, Uncle John's Holiday Hits. Intended as a gift for his neices and nephews, John crooned his way through seven holiday classics like a pro, releasing the project online for free.
Oh, and by the way…John still somehow managed to run the day-to-day operations of MeloTel, adding a plethora of new services to his business. Now, that's how you celebrate a year! We only look too forward to seeing what you'll come up with this year, John. But until we find out, have yourself an incredible birthday!