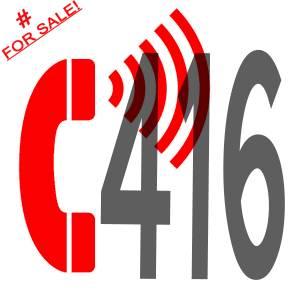 Man, is Toronto ever a big city! Just in case you didn't know, this awesome city, that is home to MeloTel headquarters, is the fifth most populous area in North America. Just behind Mexico City, New York, Los Angeles and Chicago in the population department, Toronto continues to grow larger each and every day.
This is evidenced by the fact that the Greater Toronto Area is running out of phone numbers! As reported by The Toronto Star's Dylan C. Robertson last week, the GTA will be getting two new area codes next month. Naturally, we're used to using 416 and 905 numbers in our region, and some are still getting used to the 647 and 289 area codes that were introduced twelve years back.
Next month, a brand new 437 area code will join 416 and 647 as Toronto-area phone numbers. As well, 365 will be joining 905 and 289 in Toronto's surrounding regions. That makes six different area codes for one metropolitan region! Pretty crazy, isn't it? To put it into perspective, the entire province of Saskatchewan has only ever used one area code – 306.
In fact, this year, that province will gain another area code for the first time ever – 639. So what does this mean for business owners in Toronto? Are 416 completely out of stock? Not at MeloTel! We're happy to announce that the last batch of available 416 phone numbers that are available can be yours by signing up for our impeccable Commercial Phone Services.
Consider the impact that your company's 416 area code will have. The very hard-to-get phone numbers connote a sense of longevity and maturity. Having a 416 number indicates that your company is mature, respectable and part of Toronto's cultural makeup. You may not think your area code may be all that important, but to your customers, it actually says a lot about your professionalism.
Now, we're not saying that there's anything wrong with having a different area code. But it's widely known that the 416 area code is a clear representation of one's long-standing history in Toronto. It's very rare that new customers of your average telecom companies can snag themselves 416 numbers. So people tend to revere the act of getting one as a great find.
"416 numbers have become little treasures," commented one of our clients recently, "I know many people who have attempted to get one from (big name providers) and had no luck. I find it fascinating that Toronto is growing so large that it's running out of phone numbers so quickly. If you can find a 416 number, grab it quick! They're the last of their kind."
If you're looking to establish your business and need a new phone number, MeloTel still has 416 numbers left. Give us a call at 1-888-MELOTEL to get set up with one today! Give your business the respectable look of having Toronto's original area code. According to Robertson, the new 437 and 365 area codes will go into effect starting March 25.