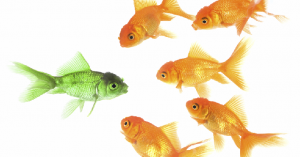 Remember back when you were in grade school? Being popular often meant doing what all of the cool kids were doing. Wearing the same clothes, listening to the same music and hanging out at the same spots were all part of being accepted. Of course, as you grew older, you came to realize just how important it is to be proud of your individuality.
At MeloTel, we pride ourselves on being different. We enjoy standing out and being unique. Then again, what choice do we have when the company President is so much more than just an expert in the VoIP telephone services industry? Add to that his impeccable abilities to sing, rap and act and we have quite a star on our hands in John Meloche!
As a singer, John has released two Christmas albums. The most recent, of course, being Uncle John's Holiday Hits 2012 which is a duet project along with our Voice Over Production Manager, Nadia Luna. As John himself will tell you, the album "was created to get you into the holiday spirit and that's all." So over and above his talent, John's wish to make others happy is at the forefront of his daily objectives.
As a rapper, John performed MeloTel's unofficial anthem, "888-MELOTEL". Written and produced by our Editor-In-Chief Daniel Faraldo, this hip-hop track showcases John's ability to surprise. "I couldn't believe he pulled off some of that double time rap," recalls Daniel after recording with John in the studio. More importantly than just promoting his business, however, John got behind the mic simply to have fun. Check it out:
As an actor, John has starred in not one, but two music videos in the past year. This weekend, John celebrates the release of the new Perfeck Strangers short film, "Work To Do". Playing a version of himself based on the Bill Lumbergh character from the film, Office Space, John's latest artistic venture is perhaps his most entertaining.
We'd like to take this opportunity to invite you all to the "Work To Do" video release party that takes place tonight at Velvet Underground, located at 510 Queen St. West in Toronto! In addition to the world premiere showing of "Work To Do" will be live performances by a number of the city's most talented hip-hop artists including Perfeck Strangers. No word yet on whether or not John himself will touch the mic!
But what is the lesson to be learned from all of John's zany adventures as an entertainer? It's okay to be different. Being unique is something to be celebrated. At MeloTel, we recognize that our customers all come from various walks of life. With the many different industries that require our services, we know that it is necessary to offer unique packages to suit the specific needs of each of our clients.
We also know that it is important to encourage our clients to stand out from their competition. Are there intriguing products and services that you can offer your clients that no one else in your industry can? Call us up at 1-888-MELOTEL to discover a bit more about how our unique company can help your brand shine even brighter. After all, being different is a good thing.